Featured Projects:

Cloverly Shopping Center



Highland Crossing



Twinbrook Shopping Center



Wegman's Landover, MD

Completed Projects:
Chambersburg Nissan Toyota
Fitzgerald Automotive Dealers
Fitzgerald Colonial Dodge
Fitzgerald Frederick Auto Mall
Fitzgerald Toyota
Fitzgerald Used Car Auto Mall
Kramer Enterprises
Lakeforest Chrysler/Plymouth/Toyota
Montgomery Airpark Business Center
Olney Theater
Poolesville Plaza Shopping Center
Safeway, Inc.
Sandy Spring Bank
Wegman's Food Markets
Win Kelly Automotive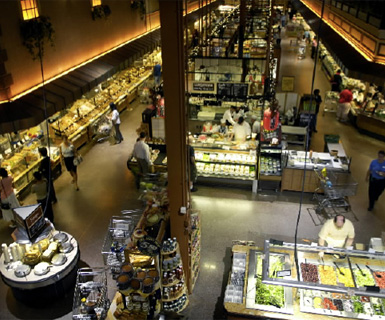 Project Description
Bob Porter Company served as the fixture set contractor on this project. Work under our scope included the installation of all fixtures and walk-in coolers for the new construction of a 130,000 sq ft grocery store. The Landover store project included the installation of over 3,000 pieces of equipment and fixtures, 3,500 feet of shelving, 900 feet of refrigerated cases, 180 doors of frozen food cases, and 900 pieces of custom casework. This project was completed on-time in accordance with a demanding construction schedule. Other new Wegmans grocery stores for whom we have been the fixture set contractor include: Leesburg, Fredericksburg, and Lake Manassas.